Audiobooks free
Audiobooks are a new way to consume literature, and via audiobooks apps are easier than ever to listen to books on the go. As a subscriber to the audiobook service, you can listen to the latest audiobooks by the most popular authors, and the title of the book is usually also available as an e-book.
All audiobook services give new users a free trial period of 14 to 30 days. This means that you can listen to audiobooks for free for a month before deciding whether to continue.
You can find all our authors around at all major bookstores and at unbeatable prices directly in our website.
Audiobooks app
No need to buy every audiobook you want to listen to, you can listen to the audiobook you want on the audiobook service for a fixed monthly fee. The principle of the audiobook service is similar to other streaming services such as Spotify and Netflix, with unlimited streaming and a wide range. To take advantage of a range of services, all you need to do is create an account, enter your payment details and download the app.
Depending on the service and subscription form, the price of different services is between SEK 79-169 per month. As a new user, you have a free use period of 14 to 30 days so you can decide if you want to continue using the service. During the test period, you can use all the features of the application and you can listen to the books you want and even download audiobooks for free (but even after the download, you must have a valid account to listen).
The largest audiobook services in Sweden are Bookbeat, Nextory, Bokus Play and Storytel. Previously, there was also Mofibo, but at the end of 2016, the service merged with Storytel. English audiobooks are also available within the app, but foreign audiobook services such as Audible are more extensive.
All audiobook apps are available for Android and iOS devices, so whether you use an iPhone or Samsung (or other Android phones), you can easily find these apps in the App Store or Google Play, create an account and start listening! Among the above services, applications from Storytel and Audible can be used for Windows Phone.
We help you publish your audiobooks
Audiobooks top list
The most popular audiobooks are now below. Click on the audiobook that arouses the most reading desire to find out where you can listen to that particular audiobook. If you do not have a good audiobook, even if the work it is based on is old, it may soon be ranked first. Click here to get to our top list of audiobooks that are most popular right now!
In the literature, everyone has different tastes and preferences, and it is difficult to objectively choose the best audio books. But in our top list, only the majority spoke.
The audio books introduced above are books that the listeners themselves give high marks, which means that you can always believe that they are worth reading. When our visitors discover new high-quality audiobooks, the displayed audiobooks and the mutual ranking are updated every month.
Check out the top list for book tips that could lead to your next favorite.
Audiobooks price
You can listen to an audiobook without paying for a subscription. Through Nordic Success Publishing, you will find the cheapest prices on all audio books and e-books published via our book publisher.
If you want to use a subscription, Sweden currently has five applications for audio books. Everything can be downloaded to Iphone and Android. Some applications can also be downloaded to other operating systems or devices. The price after the free period for the Swedish service provided above is between SEK 79-169 per month. If you choose a family subscription, the price will be higher.
For example, the average price for audio books from Nordic Success Publish is SEK 39-89. The audiobook service costs an average of SEK 139-169 per month. This means that the average monthly price for an audiobook service is higher than buying an audiobook from us. To make it worthwhile to subscribe to the audiobook service, you need to listen to about two to two and a half audiobooks each month.
Audiobooks library
Nowadays, it is easy to borrow audiobooks for free via the library. By downloading the Biblio app, you can borrow and listen to audiobooks directly on your phone. It is also possible to borrow books from a tablet or computer digitally. Therefore, library services are a good alternative to audiobook services on the market, not to mention cheap.
Do you want your audiobooks published via our website, all major audiobook apps and libraries. Contact us and we will help you publish your audiobooks for free.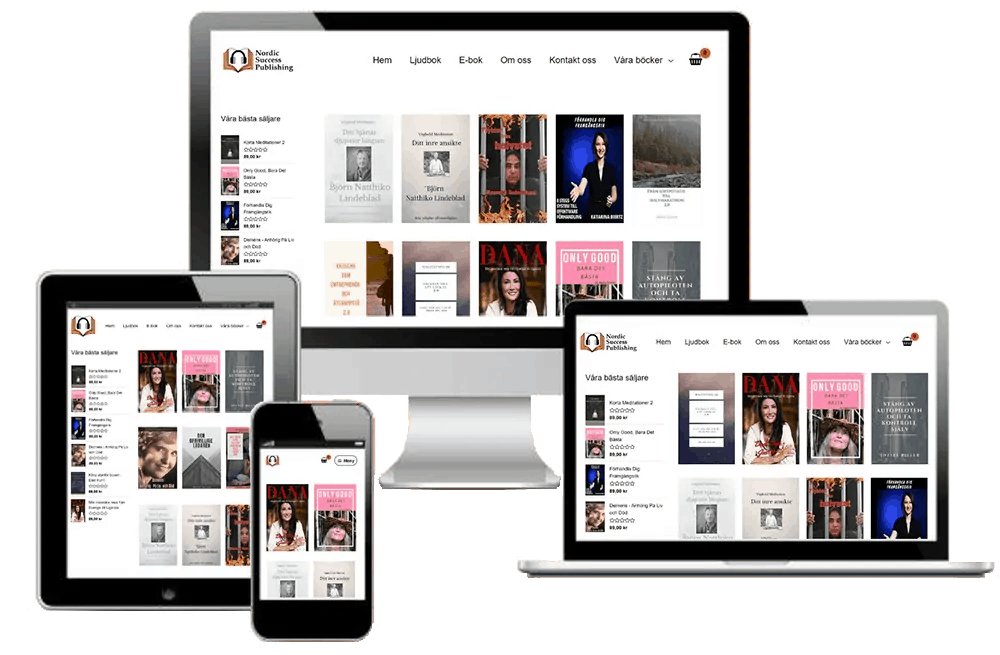 What are audiobooks?
Audiobooks, also known as audiobooks, are audiobooks that can be listened to directly from cell phones, computers or tablets. The traditional meaning of audiobooks is a cassette or CD tape, but with advances in technology and market development, it is now easy to download audiobooks or stream them directly to your smartphone, including through so-called audiobooks. Application.
There are many benefits to listening to audiobooks. You can do it anytime, anywhere during training or cleaning, instead of going to a bookstore or waiting for delivery after you have bought online. By listening to audiobooks, you can listen to the books you promised to read while taking care of your daily chores. Audiobooks have also made it possible for visually impaired people who previously had to rely on Braille to access more documents than ever before.
Now you can find different types of audiobooks (the goods offered vary between different apps and retailers), such as detective novels, biographies, children's books, facts and course literature. The author usually speaks in the book, which will give people a more real experience, because the content of the book is exactly the same as the author thought when it was written, so there is no loss. Listening to audiobooks has simply become a new way of consuming literature.
Audiobooks directly in the mobile
There are several ways to start listening to audiobooks – you can choose to buy, borrow or stream them through the audiobook service. Each method has its advantages and disadvantages.
If you buy an audiobook, you can keep the audiobook so you can share the audiobook with your friends or listen to it later. This is the audiobook you own.
If you borrow audiobooks, you must do so in a library that provides this service. The advantage of this is that it is free. The disadvantage of borrowing audio books is that the library's quotes mainly contain course documents and older books, and there are few newest book editions that can be borrowed as audio books. You can only own this book for a limited time. For students, there is an opportunity to use the library's own audiobook service.
For people with many audiobooks, streaming via an audiobook app is the cheapest option because you can listen to it without restrictions. But if you rarely listen to music, audiobooks services are not your best choice.